We have one pet now. She is a tabby cat. Her name is Georgie. We got her from a blind woman. She also had two dogs. Georgie is very cute. She always looks like she is smiling. She is great at catching mice too.
Georgie loves to run around the house. When we first got her , she would growl like a dog. However she got out of that. Now she just greets everyone at the top of the stairs.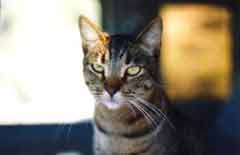 I have to laugh at my fiancee. When he gets up in the morning Georgie starts meowing. He is not awake so he gets mad, and tells her to be quiet. Of course the more he yells at her, the more she meows. It is quite the comedy act in the mornings. She wants her breakfast, pronto!
July 13,05
Recently there has been two editions to the animal family in our home. Or should I say, reptile family. My son wanted lizards, so we got him two. They change colors. They are quite small. He named them Ying and Yang. They are both females. They eat insects, and apparently some baby foods. My son takes good care of them. They need alot of moisture, so he mists the cage with water a few times a day. He has even got up the nerve to feed them live crickets.....
June 19th, 2007
We had been thinking about getting a dog for several years. Last weekend they had an adoption blitz at our local OSPCA, so we went down to see the dogs. It was very noisy and there were many dogs. I came across the cutest pomeranian...and wanted it but it had health issues. Then we came across another cute black and white medium sized dog. Unfortunately we learned that it would not get along with our cat...so we kept looking. There was another dog that looked similar only not as cute and older. My boyfriend immediately fell in love with him. His name is Oliver. We filled out the forms and took him home. The first day I was left home alone with him. My cat and him were going nuts. He decided to urinate on my bedroom rug and then go number two in my son's room. I was livid! I phoned my boyfriend at work and told him if the dog didn't shape up he was going back. Then he took off on us once but luckily we were able to catch him. He has not basic training and doesn't seem to know his name. He has been a handful. We suspect he may have been abused? He craves attention and affection constantly. I am hoping over time he will adjust and we will have another great family pet.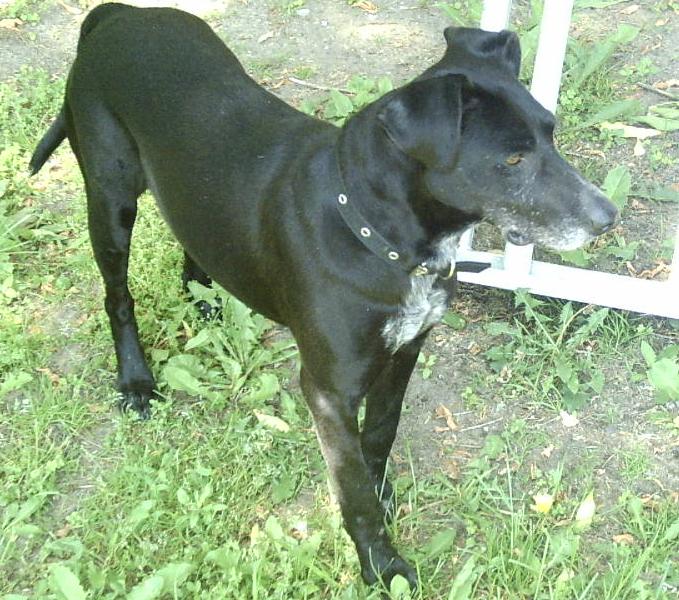 This is Oliver